PERSONNEL SEARCH FOR YOUR TRUCK FLEET​
FIND NEW PROFESSIONAL DRIVERS EASILY AND EFFORTLESSLY
Your order books are full but you just can`t find the right driver? Your pool of truck drivers is too small and you would like to expand it with qualified personnel? fleetmatch can help you. With us you can reach exactly the drivers who fit your requirements and contact them directly on your smartphone - uncomplicated, fast and online.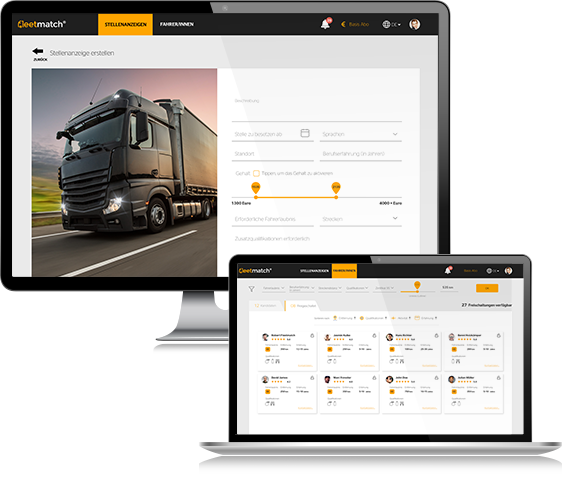 YOUR ADVANTAGES
fleetmatch is a Continental Service - this gives you the certainty of working with a strong and reliable partner. with fleetmatch you can benefit from these advantages:
ADVERTISE JOBS EASILY
Register, create your profile and enter your job advertisement - all it takes is a few clicks. This saves you a lot of time in your search for suitable professional drivers. 
HIGH REACH - HUGE SELECTION
Your job offer is accessible on the smartphones of thousands of professional drivers who are looking for a new job. A more targeted reach in the search for personnel is hardly possible.
FIND SUITABLE DRIVERS
fleetmatch matches your requirements with the qualifications of the registered drivers - in a free preview you will be shown exactly those drivers who are perfectly suitable for your job. 
CONTACT DRIVERS DIRECTLY
If your offer is of interest to a truck driver, you will receive information immediately - and can contact the candidate directly. 
ATTRACTIVE PRICE MODEL
The overview of eligable drivers is free. Only if you want to activate a profile and view the contact details you will be charged. In return, we offer an attractive price model that is guaranteed to fit your budget.